Affiliate Marketing Program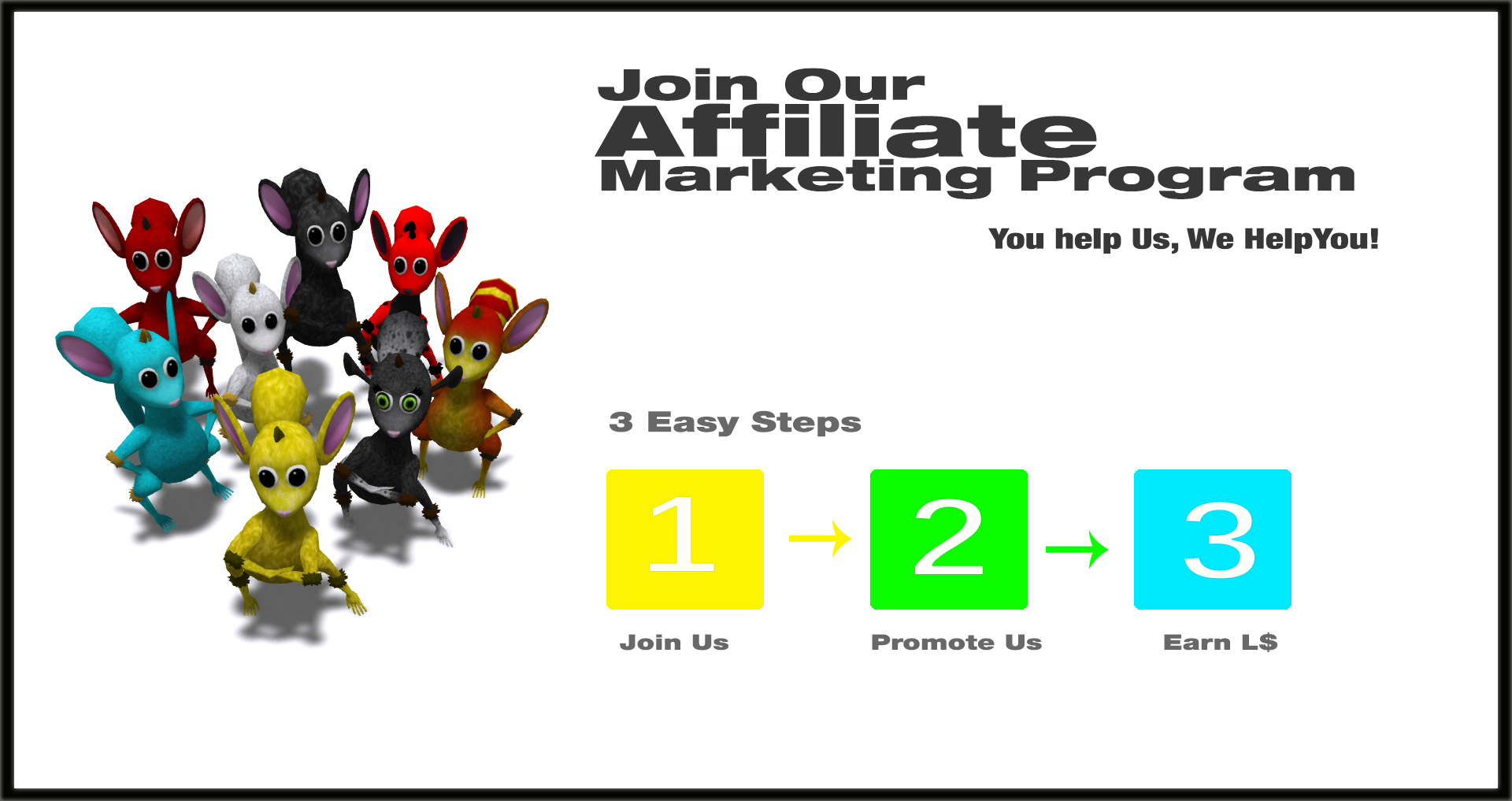 Are you passionate about your Mossms? Do you want to help spread the word and make a few bucks while doing it? If so, our Affiliate program is perfect for you!
---
How the Affiliate Program Works
*
The affiliate kit costs 7500 L$.
All new affiliates start out with a commision rate of 5%. This rate is fixed for the affiliate's first 30 days. After the first 30 days, the affiliate's commission rate can go up (or down) based on the affiliate's gross sales.
Affiliate sales are analyzed every 2 weeks and commissions are automatically adjusted based on the following sales criteria:
Standard Tier: Gross sales of 0L$ to 4,999L$ per two week period receive a 0% commission.
Silver Tier: Gross sales of 5,000L$ to 19,999L$ per two week period receive a 5% commission.
Gold Tier: Gross sales of 20,000L$ to 39,999L$ per two week period receive a 10% commission.
Premium Tier: Gross sales of 40,000L$ or more per two week period receive a 15% commission.
Affiliate's are never locked in to a specific tier. The commission rate will go up and/or down as sales volumes change.
---
Commission increases for excellent sales performance.
Customizable store ad on our buy page for Silver Tier and higher.
Sales report on your affiliate page to keep track of your performance.
Advertising materials for your in-world store.
Discount on purchases for yourself for Silver Tier and higher.
We handle all support requests for your vendors.
---
You must have 10 or more Mossms alive and on display, working in environments near your vendors. The Mossms must be on your account and cannot be divided up among multiple avatars. Mossms in cryo pods do not qualify.
You cannot have forced teleporting on your sim unless the landing spot is near your vendors.
You must join our Mossms affiliate group inworld.
You are expected to treat everyone in the community kindly at all times.
Only one affiliate per sim
Important: Affiliates that fail to meet these requirements may be disabled.
---
Other Stuff You Need to Know
*
Sales Reviews & Commissions Adjustments
Sales reviews and commission adjustments happen automatically. We will not respond to requests to increase commission rates.
Disabling Affiliates
We periodically visit affiliate locations to verify that our requirements are being met. Affiliates not meeting the requirements enumerated above may be disabled. We understand that life sometimes happens though and will make concessions for affiliates that communicate with us about their issues.
Affiliates that voluntarily disable their vendors by turning them off in the web UI or by picking them up in world will be disabled but can come back at any time.
Affiliates that are disabled for non compliance will not be able to re-enter the program.
Refunds
You may get a refund within 72 hours of your purchase. We will not respond to requests for refunds after 72 hours. Please be very sure you want to be an affiliate before buying the kit.
---
Sounds Great, Sign Me Up!
*
If you're excellent at marketing, have a passion for Mossms and feel strongly that you can help us grow then stop by our sim and pick up an affiliate kit.
Important: At this time the affiliate vendor is offline. Please open a support ticket if you are interested in becoming an affiliate.
Please note: Setting up our vendors will not make you "insta rich." Like all businesses, you will have to work hard to be successful. We reward those that work hard with higher commissions! As an added incentive, given enough growth we will offer more commission tiers to excellent performers.