Asymmetrical Returns from the Rebelle Rally
Asymmetrical is back from the Rebelle Rally! We have lots to tell you but we wanted to start by extending a very heartfelt thank you to everyone that helped support this awesome adventure!
We had 101 Mossm community members and friends purchase some of our rally themed items which covered nearly half of the entry fee to enter the rally. This is seriously a huge amount of money if you consider that the entry fee was 12k USD (6k per person). We raised almost half of it from Mossm customers at 300 L$ a pop or approximately $1.18 USD per item. That's a ton of rally items you guys bought to support her in this crazy adventure. Asymmetrical and her teammate, Christy, cannot thank you enough for extending such kindness!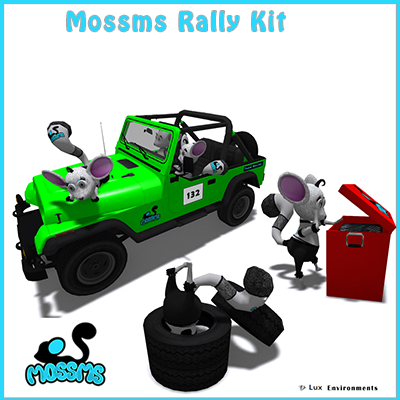 We also want to thank all of the Mossms customers who have waited patiently for responses to tickets and/or turned to the community for answers to tough questions while we were in the desert with no phones or internet. We love you guys and appreciate you all very much!
A very special thank you to Buttercup, our customer support representative for keeping an eye on things while we were offline. If you see her online, please give her a virtual hug. She deserves it!
Now, lets talk about the Rally!
This event was not a race. The event combines off-road driving with old school navigation using a map and compass. Competitors lock away all technology for 7 days. No phones, no GPS, no radios. Competitors are completely shut off from the outside world.
There are two women in each vehicle, in the desert, for 7 days with a map, compass and a tent.
The main focus of the rally is to drive to hidden checkpoints of varying difficulties some marked with flags or poles and some completely unmarked. Each checkpoint has a point value ranging from 4 points to 20 points. Teams use a map and compass to find the checkpoints based on a given latitude/longitude or heading. Sometimes the difficulty was based on driving through technical terrain (physically getting the vehicle to the location) and other times the difficulty was based on the navigators map and compass skills. There is an additional challenge in finding certain checkpoints within a specified time period. Failing to meet time requirements on these checkpoints results in an inability to collect points for the remainder of that day.
In addition to the hidden checkpoints there are also driving an average speed over a given distance challenges and staying on route challenges that offered additional points on most of the days.
Each day consisted of 11-12 hours of driving through desert terrain in Nevada and California over roughly 1200 miles. We spent time in the Mojave Desert, Dumont Dunes, Johnson Valley and Glamis Dunes and some other iconic places in the American west.
Asymmetrical and Christy finished 19th out of 33 vehicles in the 4x4 class. They are not terribly happy with this score because they know they can do better! On day 4, due to some confusion on their part and some conflicting information that they received they arrived late to a checkpoint which caused them to lose all remaining points for the rest of that day. This was a huge setback that they'd never recover from. I guess this just means that they have to go back to redeem Themselves! They also failed to get full points on average speed challenges so they have some things to work on!
That said, for the first time as a team we think they did great! They learned to work well together, still love each other very much and aside from the scoring issue had an amazing time. Just showing up to and finishing this event takes a special kind of person and we're proud of that accomplishment!
A Special Thank You Reward
As promised, we put a big Mossm decal on the Jeep. We had everyone's names ready to be put on the Jeep but forgot to bring them with us to tech inspection so they had to do the rally without them. That said, in honor of everyone that helped we are going to put the names on the vehicle and do a video and get some photos that we will upload to SL and share with everyone contributed. In addition, we want to send everyone that wants one a Mossm sticker. If you contributed by donating L$ or purchasing a rally themed item and you'd like a sticker, please send an email to asymmetrical@mossms.com with the following information:
Your real life name
Your avatar name
Your mailing address
We promise that will not share this information with anyone and will delete it after sending your sticker.
If you did not contribute to the rally fund-raiser but would like a sticker, please hold tight. We will make them available for purchase once all of the contributors that wants one gets them.
Now that Asymmetrical is back, keep an eye on the news and forums. The breeding challenge for November will be announced very soon and we'll start taking signups for the annual Christmas/Winter event in the next couple of weeks.
Thanks again, we couldn't have done this without you!