Help Asym Get to the Rally!
I rarely bring my real life in to my Second Life but in October of this year I am bringing my Second Life in to my real life and I need your help!
As many of you know, last year I participated in the Rebelle Rally ( http://rebellerally.com/) which is the first ever (in the United States) all women's off-road and navigation rally. Last year I teamed up with my friend Holly in her Jeep as the navigator. This was a 10 day event that included 7 days of driving in the deserts of Nevada and California, finding specific checkpoints which were given to us in the form of coordinates or headings and we had to find them using only a compass, map and plotting tools. We had to camp in the desert each night of the rally and GPS enabled devices were not allowed, this includes phones so there was no contact with the outside world during the event. It is a completely off-grid event and was one of the most epic and life-changing things I have ever done.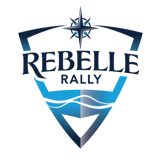 As crazy as all that sounds, I'm going again this year and this time I am taking my own brightly colored gecko green Jeep. I will be driving during the rally and I am bringing my daughter-in-law, Christy, as the navigator. The event begins on October 12 and ends on October 21. Here's where it gets even cooler… we are representing Mossms on this crazy adventure! Our team is appropriately named Team Mossms and we're Team #132.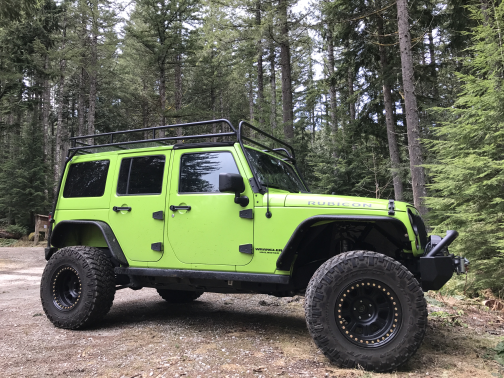 The registration fees and other expenses for this event are pretty insane. The registration alone is $5,500 USD per teammate. It may seem like a crazy amount but when you factor in all of the personnel required to make the event function for 10 days, land use permits and a zillion other things the cost starts to make sense. Our team has picked up a few great sponsors that have donated parts that we need for the Jeep but we still need quite a bit of help raising the funds for registration. This is where you come in...
Instead of just asking for donations, we decided to make something very cool for our Mossm fans so we created a special Mossm, a special eye and 3 special environments, all Rally/Race themed. We are selling these items to raise the funds. The environments are a toolbox, a stack of tires and a vehicle made to look similar to my real word Jeep. The vehicle will host 6 Mossms and you will earn LUX while your Mossms are in the environment. The tire stack and the toolbox entertain 1 Mossm each and also earn LUX. The Mossm is wearing a race suit that has our team number (132), some Mossm branding and also has my name (Asym) embroidered on the front of the shirt. The Mossm comes with a special (new) checkerboard eye that will pass on Black Starlight or higher. These items will be for sale on the main sim until we reach the required dollar amount to pay our registration fee or until I leave for the Rally on October 10th - whichever comes first. The Mossm sells for L$500. The vehicle environment sells for L$500. The toolbox and tire stack sell for L$250 each. If you purchase each piece separately the total cost is L$1500. We're also selling a "fat pack" that includes all of the items plus one extra Mossm for L$1250.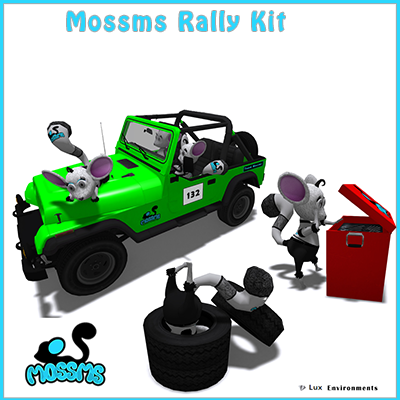 In addition to the cute Second Life items we're selling we'll be decorating the real world Jeep with a giant Mossm logo. For everyone that helps out, we'll consider you one of our teammates and write your Second Life name on the Mossm for everyone to see during the rally. We're certain that there will be lots of questions about Mossms and your names! Once the rally is over we'll put a copy of the Mossm with everyone's name on it on display on our sim and send everyone that helped out a copy.
During the rally you'll be able to see up to the minute details and rankings on the rally website so even though we won't be able to communicate with you, you can keep an eye on how well we're doing. You can also keep track of what I'm doing in the months and weeks leading up to the rally on my Instagram page.
We pride ourselves in keeping things affordable and not nickel and diming you to death with every new thing we make and we know funds for SL are not always easy to come by so we really do appreciate your willingness to help us out with this amazing adventure. The Mossms Community is truly the best in SL and we are so proud to be showing off Mossms at such a huge event.
Yours,
Asymmetrical